I have been thinking about learning Russian this past week, and I finally sat down to learn a lesson. My family keeps saying I'm very gifted in the area of languages, so I thought this would be fun. It is pretty interesting, I'm finally rolling my Rs and making that hard guttural sound, but it's the "V" and "Y" sound that always throws me off. I have found that the Russian Alphabet is allot easier then the Japaneses writeing system, which after three years of Japanese, I still haven't been able to figure out. Hopping in between Japanese and Russian was entertaining, cause I'd end up making the Russian sounds for Japanese and vise-versa. After awhile I learned how to say "Miss, Excuse me" and I'm working on "Wassup" and "hi". "you" in Russian is a pain. How the heck do you say "Vy"? But I figured it out, it's gonna take awhile before I actually can understand things.

Have some Vodka, da?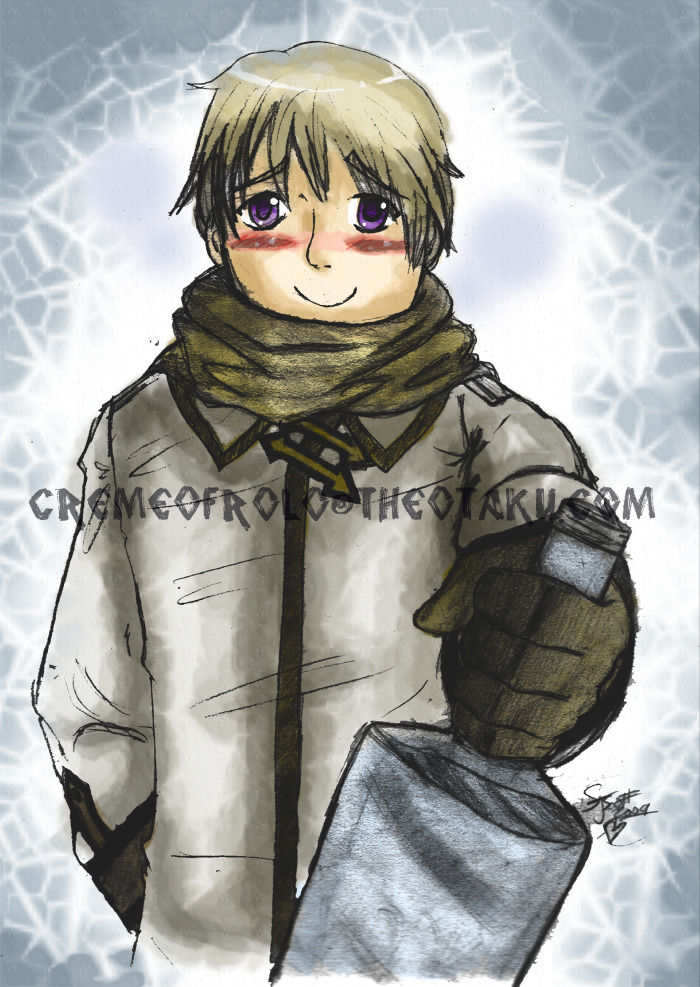 That picture above is of Russia, from Hetalia: Axis powers. A.K.A my favorite character. Hetalia has been my new obsession for awhile, I love that show. It has made history and culture so much more entertaining. And it's what inspired me to try out Russian (and eventually German). The picture above was done in Photoshop CS3, Trial version. (Since I am a poor artist.) and It was supposed to be kinda watercolor-ish. It was all I could do for a watercolor effect, but now that I bought some watercolors I want to try out real watercolor. I have been thinking about coming back to landscapes like I did back in art school, but I'm too scared. That whole experience scared me for life. Yet, I know I need to get over it, since my family loved my landscapes. My grandma was pleased to hear I'm painting again. I guess it's help to her since my grandpa died and he used to paint so shes glad its being passed down.
I'm not sure.
Пока
~Sophia